ACCENT LEARNING for the NEW SCHOOL YEAR!
1-on-1 Distance Lessons with Renowned Dialect Coach
DAVID ALAN STERN, PhD
40% Post-Crisis Discount Still in Effect
DO NOT pay for lessons until you have scheduled your first session.
Contact us at: dialectguy@gmail.com or (860) 933-3487 to schedule lessons.
Click to pay $105 (40% "recovery discount) for a 1-hour Distance Lesson.
Pay $360 for a discounted package of four 1-hour Distance Lessons.
Click to pay $600 for a series of eight 1-hour Distance Lessons.
Learn-Modify-Reduce Accents via

ZOOM


1-on-1 Accent/Dialect Coaching

with Dr. David Alan Stern

Distance Accent Lessons for
Auditions, Performances, or General Prep



-FUN-EFFECTIVE-REASONABLY PRICED-



Use your Accent Lessons for:
accent/dialect coaching–AUDITIONS or ROLES

expanding skills & enhancing CASTABILITY

following up on your work with David's Audios.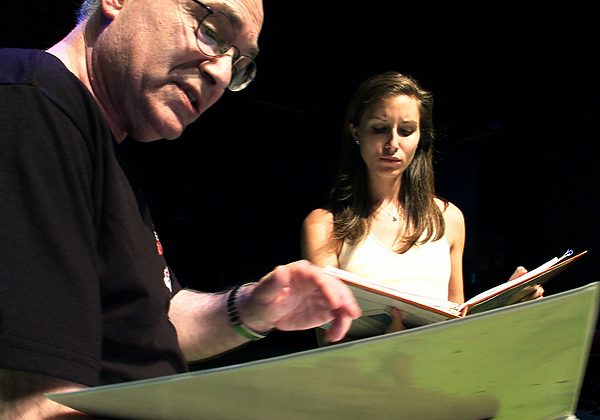 The Cost of Each 1-Hour Distance Lesson Also Includes:
A FOLLOW-UP EXCHANGE OF RECORDINGS
(for feedback on your progress)
When you Learn Accents via ZOOM distance lessons with David Alan Stern, it's the next-best thing to having an in-person dialect coach. He has helped hundreds of actors prepare for stage, television, and film roles. The most recent was Vincent Tycer (Chappaquiddick). Among others he coached for film roles were Geena Davis (The Accidental Tourist), Olympia Dukakis (Steel Magnolias), and Jennifer Jason Leigh (Fast Times at Ridgemont High), and Liam Neeson (Next of Kin). For stage roles, he has worked with Terrence Mann (My Fair Lady and Sweeney Todd), Lynn Redgrave (Sweet Sue), and Pat Sajak & Joe Moore (Dial M for Murder). CLICK TO READ a more complete bio.
David's Approach to Learning General American Accent
With this Accent-Reduction method, you will first Americanize two speech traits before working on pronunciation. You first create more American-sounding intonation and rhythm using David's respected "Jump Up-Step Down" method. You then learn his "Mid-Tongue Muscularity" technique that helps you create the resonance or voice placement of Standard American English. After that, these first two skills will help you create the American pronunciations of vowels and consonants. Finally, you can begin working on the more advanced pronunciation features of American English. These include Final Consonants, Medial T's, -ED endings, and separating L from R and S from Z.
David Alan Stern published the first edition of The Sound & Style of American English in 1987. Since then, he has taught this effective and enjoyable method to hundreds of ESL teachers, speech pathologists, and voice & speech trainers. First, David offered his own teacher-training workshops for many years. Then he was invited to demonstrate his method at national, state, and local conferences of TESOL and ASHA. In addition, his corporate clients have included executives from Bateman-Eichler-Hill-Richards, Beech Aircraft, NCR, TRW, Union Carbide, and Mitsubishi & Wells Fargo Banks.