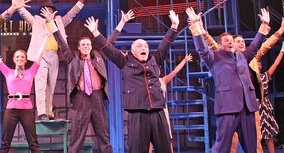 David was a Los Angeles-based production dialect coach for twelve years. He continued doing periodic engagements during his 25 years as a professor in UCONN's Dramatic Arts Department. Having recently stepped away from that position, he is again available for longer and more distant gigs. HAVE TIME, WILL TRAVEL.
To inquire as to availability and fees, please contact Peggy Voakes at (800) 753-1016 or dasinc@kingcon.com
PRODUCTION DIALECT COACHING EXPERIENCE
Among the many actors David has helped to prepare for stage, television, and film roles are Sean Astin (A Christmas Carol), Vincent Tycer (Chappaquiddick), Geena Davis (The Accidental Tourist), Olympia Dukakis (Steel Magnolias and Dad), Julie Harris (Carried Away), Jennifer Jason Leigh (Fast Times at Ridgemont High and Easy Money), Shelley Long (Voices Within and Outrageous Fortune), Terrence Mann (My Fair Lady and Sweeney Todd), Liam Neeson (Next of Kin), Lynn Redgrave (Sweet Sue and Midnight), Pat Sajak and Joe Moore (The Boys in Autumn and Dial M for Murder), Richard Ruiz Henry (Kiss My Aztec), Forest Whitaker (Bird and The Crying Game), and Julia Roberts, Sally Field, and Daryl Hannah (Steel Magnolias). David also served from 2000 to 2017 as Resident Dialect Coach for the Berkshire Theatre Group in Massachusetts. CLICK TO READ David's Academic-Theatre Resume.
ACTING
In recent years David himself returned to the stage as Zoltan Karpathy in My Fair Lady (with Terrence Mann), as Roy in The Odd Couple (with Pat Sajak and Joe Moore), and as Arvide Abernathy in Guys & Dolls (with Sarah Schenkkan). Not unexpectedly, he also worked as Production Dialect Coach for two of those three shows.
TRAINING MATERIALS
The first editions of six Acting with an Accent audios appeared in 1979–expanding over the years to the current 24 downloads. David's first programs for accent-reduction training came out in 1982. His pioneering techniques soon revolutionized accent learning and influenced many of the authors and dialect coaches who followed.